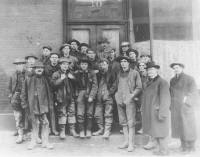 Public Sites:
Carol Burrowes DeWolf
(1916-2007)
Robert Morrison DeWolf
(1918-2003)
Tim DeWolf and
Cristina Campbell
This web site is a vehicle for the extended family of Reverend Robert and Carol Burrowes DeWolf.

It's a place for us to share information and keep in touch. It has a lot of information, both historical and current.

To protect privacy, much of the main site is protected by username and password, but the photo gallery and the individual sites on the left are public.

If you're interested in having access to the family areas, please contact:
| | |
| --- | --- |
| Paul DeWolf: | |
If you're a relative of Robert and/or Carol and would like to have space on this site for your own pages, please let me know by contacting me (Paul) at the e-mail address above or phoning (303) 467-3437.