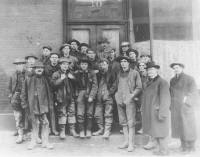 Public Sites:
Tim DeWolf and
Cristina Campbell
In Memorium:
Carol Burrowes DeWolf
(1916-2007)
This web site is a space for multiple families to share information and keep in touch, for relatives to find their relations and for people with a healthy curiosity about our families.
It has a lot of content, both historical and current, mostly in the form of genealogy, photos and links to family member sites. There is more information available for members of the family with accounts.
If you're a relative in some way and you're interested in having more (free) access to the family areas, please contact Paul DeWolf at home at 303 467-3437.